Criminal Defense Attorneys in Kansas City
If you find yourself in a position where you need help from a criminal defense attorney in Kansas City, you need to take it seriously. You should hire the best criminal defense attorney you can to help you with your case. A strong defense can make the difference between getting convicted and walking free.
Spradlin Kennedy is a Criminal Defense Law Firm Building a Strong Defense Against Criminal Charges
Regardless of what you've been accused of, Spradlin Kennedy in Kansas City can help you with your case. We have a team of great criminal defense lawyers in Kansas City who come from a range of different backgrounds and specializations. Someone from our team can take on your case and develop a strong defense with you. Our team in Kansas City is made up of criminal defense attorneys from different backgrounds, including DUI defense lawyers; drunk driving defense lawyers; domestic violence lawyers; domestic assault lawyers; drug charge lawyers; DWI defense lawyers; and traffic and municipal violation lawyers.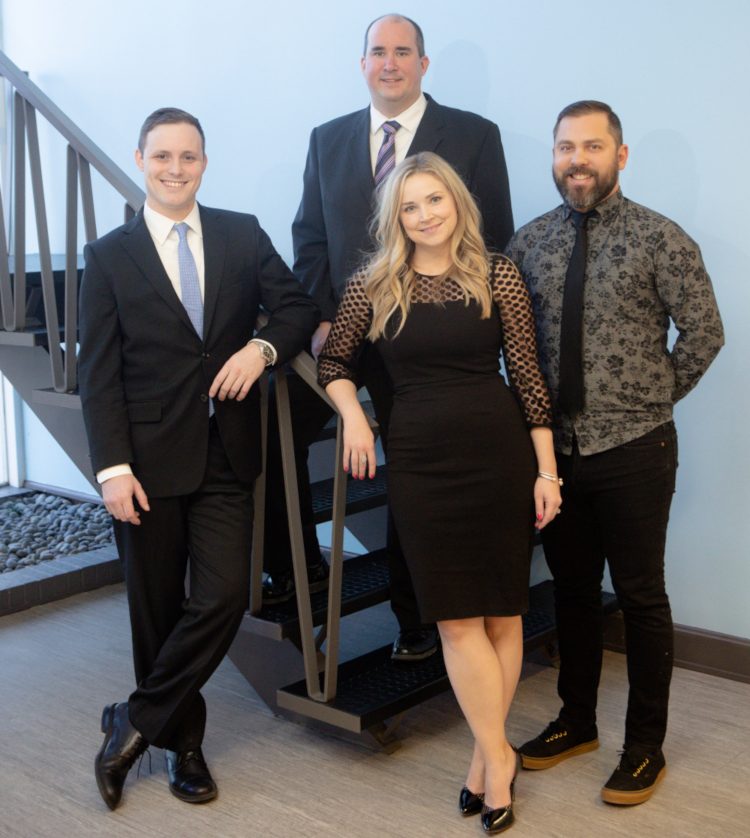 Our team of criminal defense attorneys in Kansas city know what it takes to overcome a criminal charge and win your case. If you've been accused of a criminal offense, your freedom and future are likely in jeopardy. Why leave your fate to chance? When you work with one of our criminal defense attorneys in Kansas City, we do everything in our power to ensure that your case succeeds.
Get in touch with us to find out more about our services and our criminal defense attorneys. We welcome all inquiries from the public and reply as quickly as we can.
Criminal Defense Attorneys in Kansas City Protecting Your Future
Whether you are facing DWI/DUI charges or something much more severe, criminal charges can have a major impact on your life. From losing the ability to drive, to facing years in prison, there are very serious consequences that could be imposed on you if you are convicted of a criminal offense. That is why our criminal defense attorneys in Kansas City fully commit our firm to defending the rights and futures of every one of our clients. Our team of Kansas City criminal defense attorneys are here to review your case fully and discuss the best possible outcome for you, so you can make an informed decision on how you want to proceed. Do not accept anything less.
Kansas City Personal Injury Lawyers Helping Accident Victims Recover Compensation
When you are hurt, you may not be able to care for yourself or go to work, and in the meantime, you may be watching medical bills pile up. We can help you hold liable parties accountable, and we will fight on your behalf to secure the full and fair recovery you deserve. Our experience in personal injury cases include Car Accidents, Slip-and-fall injuries, Nursing Home Abuse and Neglect, Medical Malpractice, and more.
Dan went above and beyond for me. He exceeded every expectation was honest, efficient and cares about the clients he defends. I couldn't have made a better decision choosing him to defend me. Knowing he is in my corner gives me relief because there is nobody better. If you are in need of legal advice or looking for representation calling Dan is one of the best decisions you can make.
Tracy is extraordinary! I could not give a higher recommendation for anyone in need of legal assistance.
Dan is the man. He's had years of experience and if you follow what he tells you everything else will fall in place. Dan is a wonderful attorney. The Best!!!!!!! I wished I met Dan long before now!!!!
Kansas City Criminal Defense Attorneys On Your Side
Do not face criminal charges without representation you trust to fight for you. The criminal defense attorneys at Spradlin Kennedy Law Firm in Kansas City can help you. To schedule a free initial consultation, call 816-659-2431, or contact us online.
Daniel Kennedy
Tracy Spradlin
© 2019 by Spradlin Kennedy Law Firm. All rights reserved. Disclaimer | Privacy Policy | Sitemap | Law Firm Marketing and SEO by